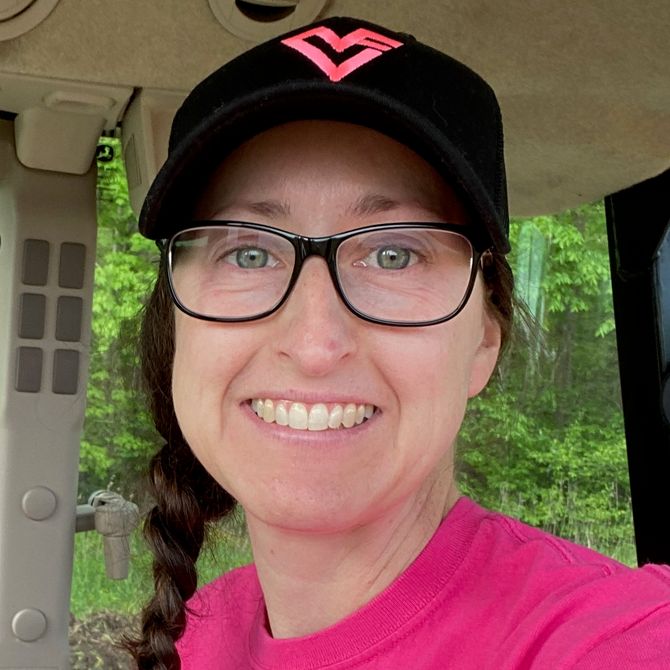 Courtney Denard
ECFWA member
It's been a year of key milestones for Courtney Denard.
For starters, the highly accomplished agricultural editor and journalist is celebrating 10 years at long-time farm publication, Ontario Farmer.
"I got into it by accident," she laughs, thinking back to her foray into agricultural journalism.
While pursuing her graduate degree in rural extension at the University of Guelph, she realized she was missing one final credit.
"I looked through the catalogue and the only one that stuck out to me was a class called 'Agricultural Communications,'" she says.
Worried that she had already missed half of the year-long course, she reached out to the professor, Owen Roberts, and persuaded him to give her a chance.
"I did not excel in economics, or science or math. I didn't grow up on a farm," she says. "But I knew that I liked agriculture… and I always loved writing."
Denard's talent earned her a coveted spot as a writer in the SPARK program (Students Promoting Awareness of Research Knowledge), where she covered agricultural content for the University of Guelph research magazine.
Pursuing her passion, Denard gained experience with several commodity organizations and took on progressively more freelance assignments until she was offered a full-time position at Ontario Farmer.
"Sometimes interviews are really difficult. They're really choppy or you don't get a lot of content," she says. "But I love the act of interviewing someone, hearing their story, and then having the ability to craft that into a piece that matters. A piece that maybe somebody will read and feel less alone."
Fifteen years ago, she moved to her husband's dairy farm in Owen Sound. This life change marked another key point in her life and, if anything, it brought her even closer to her readers.
The idea for her most memorable assignment to date came to her after watching a dairy cow webinar.
"I thought, why can we talk about cow reproduction so openly and readily in agriculture, and yet we cannot talk about this with women?"
Having grappled with more than one miscarriage, Denard understood the pain and isolation all too well. She shared her own journey in Ontario Farmer during October's Pregnancy Loss Month.
Two months later, she followed up with a feature article, telling the stories of three farm women and their experiences with infertility.
"There are unique things that farmwomen deal with when they're going through infertility and pregnancy loss," she says. The hospital could be hours away, and hiding unexplained absences from family or friends is almost impossible in a small, tight-knit community.
"I wrote that article with these brave women who so vulnerably opened their stories to me."
The response was resounding. Denard received an outpouring of emails from women and men alike, realizing they were not alone.
"I think we're writing more about women in agriculture. But there are some things women go through that are still taboo to talk about, and infertility is one of them."
For budding agricultural writers, Denard shares a pivotal piece of advice she received from veteran ag writer, Hugh Maynard, early in her career.
"Find the one thing you're good at, and use it to stand out."
Writing for a number of different industries at the time, Denard zeroed in on agriculture, then found the beats that resonated – mental health and women.
She's also been a long-time member of the Eastern Canadian Farm Writers' Association (ECFWA), giving her the opportunity to connect with like-minded writers across the province, the country and the world.
"I think we all wear a lot of hats in this occupation. One day I call myself a farm writer. One day I call myself a reporter or communicator. But deep down, I really identify as being a storyteller."